Goals of the exhibition
The exposition, named "Les insectes bâtisseurs" (or "Insects builders" in English), is a circulating exhibition for all public. You can see about 86 photographies with small texts in 17 boards. About 50% of pictures are from my collection and the rest from a lot of persons all over the world. Their contribution for this exhibition was very important and I would like to thank them (see the list).
This exhibition present nests from social insects as bees, wasps, ants and termites.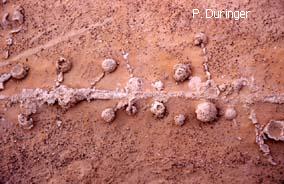 Fossile of a termite nest (Tchad, copyright MPFT 2004)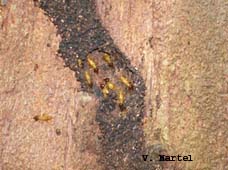 Tunnel built by termites Nasutitermes (Porto-Rico).